INCREASE FLEXIBILITY, IMPROVE STAMINA, AND BUILD GREATER STRENGTH
Play more, hurt less, and smile often
Cultivate your inner competitor
Live with the certainty of knowing you can
Feel like you've been hit by a truck after your weekend hikes? This professionally designed Class Track helps you perform your favorite activities with more energy and enthusiasm, and with less fatigue and aches. Now is the perfect time to turn your old weaknesses into new strengths! Rise to higher levels in the ATHLETIC PERFORMANCE Class Track.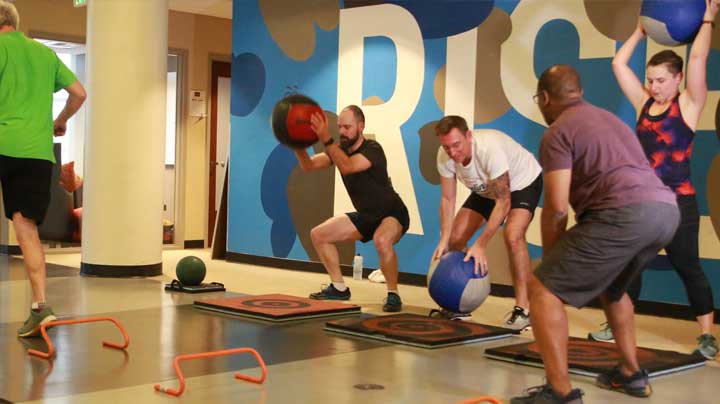 Weekly Class Schedule
2 SPORT: beat your personal records, become stronger, faster, and more responsive.
1 MINDBODY: enjoy the freedom of movement with greater flow and flexibility.
1 STRUCTURE: target your weak links and refine fundamental techniques.
Current ATHLETIC PERFORMANCE Class Track schedule. Mix and match any times you choose. For late-breaking changes and schedule updates, please see the daily schedule on the Members page.
Monday
Tuesday
Wednesday
Thursday
Friday
Saturday
Morning
8:00 Mindful Meditation
6:30 HardCore
7:00 ZUM Sport
8:00 ZUM Sport
Monday
Tuesday
Wednesday
Thursday
Friday
Saturday
Midday
1:10 Xcelerate+
12:00 Yoga
12:00 Resilient Speed
12:30 Perform
10:30 Yoga
Monday
Tuesday
Wednesday
Thursday
Friday
Saturday
Evening
5:30 Yoga
6:30 Rugged
5:30 ZUM Sport
5:30 HardCore
More about the Classes in the Athletic Performance Track:
ZUM Sport
ZUM Sport targets 3 areas of overall fitness: strength, agility/stability/balance, and aerobic fitness. So, it's designed to be the only conditioning-based workout you'll need – attend ZUM Sport 3 times a week, and you're set! Each quarter the focus of ZUM Sport will adapt in preparation for the upcoming season's sports and activities, with monthly workouts programmed to continually challenge you while you track your progress. Our coaches will be there to push you and help modify the workouts to make sure each person is getting what they need out of each session.
FITNESS IS YOUR JOURNEY, NOT YOUR DESTINATION