When did you first start working at ZUM?
April 1st, 2007.

Wow! 10 years?! That's incredible! What initially brought you to ZUM?
I had been the fitness director at another gym in the area, but it wasn't the right fit for me. I spent about 3 weeks researching other gyms where I might be interested in training. When I came to check out ZUM, I knew it was the place for me. The energy at the old location really spoke to me. It was laid-back and stress-free, not your typical sales environment with quotas to meet and supplements to sell to your clients like where I'd been in the past.

When you first joined the ZUM team, you were a house trainer, right? Please tell me you started teaching your signature Weigh Crazy class right away.
Yes, I was a house trainer until I became an independent contractor in 2012. No, back when I first started, the trainers were all required to teach 2 classes for 6-8 week segments. I didn't develop Weigh Crazy until 2009. Initially, it was at 5:30am. It was horrible – way too early! There were about 8 regulars; never more than 12. Amazingly though, the class hasn't changed that much. In 2014, I changed the format to what it is now where I teach the same movements for 2 weeks to give members the opportunity to really make gains and push more weight in a manageable, safe way.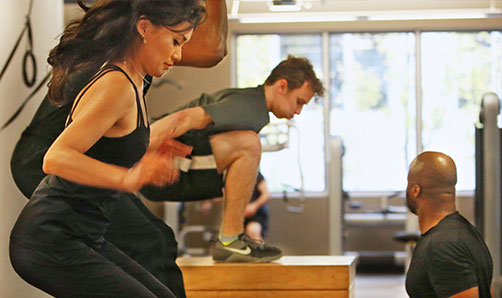 It's pretty cool to think you've been coaching people to "Jump!" and "Re-lax!" for so long! I know your class is many members' favorite thing at ZUM, but what is your favorite thing about training at ZUM?
It's a tough question, but one thing that's always so amazing to me is that people trust me with what I believe is the most important thing in their lives – themselves; their bodies. It's humbling and awe-inspiring.
It's clear how much you care about the well-being of your students and clients. Was providing another element of care why you added massage to your repertoire?
In a way, yes. When I first started working at ZUM, I observed a trainer who was also an LMP (Licensed Massage Practitioner) work with his clients on the mat. It was really interesting watching him incorporate two different modes of body work at the same time.
Personally, I have a history of low-back pain and hip tightness. I had been working with a Thai massage practitioner on these issues, and I attended a basic-level class she offered in 2013. It was during that class that I received clarity that massage was something I should be doing, so I went to school and became licensed in 2014.
Did it feel like a natural progression?
It was very logical, Having worked with bodies and being an athlete myself so long, many aspects of the training were easy and simple.
Has massage changed the way you approach your training?
Great question. Philosophically, I used to think of functional training as moving functionally, as one would in every day life – standing, kneeling, bending over, etc. I would never train a single muscle just for the sake of training it. In massage, however, there's more emphasis on muscles and joints having unique "jobs" functionally, almost like links in a chain. I work things now I wouldn't before to ensure individual muscles can activate when called upon and to strengthen the weakest link in the chain.
Practically, I mix massage into sessions with my clients when they're hurt or have chronic issues. If they do a movement that triggers something, we'll go over to the mat, do 5 minutes of massage work, and then try the movement again to see how it's changed. Often times the discomfort lessens, they're able to get a deeper range of motion, pain decreases, and there's a visible change to the movement.
What are the benefits of incorporating massage into our training?
Increased range of motion/mobility.
Less physically discomfort.
Increased access to your body (perhaps in a different way).
Decrease stress by stimulating the sympathetic nervous system.
Look, if you believe in holistic health, massage has to be in your regimen in some form. If your body feels beat up, one two-hour session once a month or every 2-3 weeks is great. Massage is also preemptive, prophylactic and precautionary to help prevent injury. As with everything, consistency is key to help us be and perform better.
So what should can a person expect from a massage with you? What's your style?
My style is deep tissue with a therapeutic intent. Meaning, I'm going to cause you a great deal of discomfort, but in exchange for those 2 hours of discomfort, you'll receive days, weeks, months of decreased pain and increased mobility.
I'm also trained in relaxation massage, so if that's what you want, I can make that happen, but most people need specific help. There's power in consciously shifting your idea about what massage can be in addition to a soothing, stress relief.
Do you have any words of wisdom for ZUM members?
60 minutes of massage is beneficial only for relaxing. If you have specific issues 90 minutes or 2 hours is the way to go, especially if you want other areas focused on beyond those trouble areas.
Also, being comfortable on the is the goal. Wear what makes you comfortable. Just use common sense.
Ok, time to get to know Tony Moses, the man behind the legend. What's your guilty pleasure?
A Top Pot Apple Fritter and/or "The Cookie" at Metropolitan Market.
It's common knowledge you're an avid traveler. Do you have a favorite place you been?
Cuba, Verona, Italy, and Barcelona. The beach in Barcelona is fantastic.
Do you have a favorite film?
I'm really into South Korean film right now. In particular the Vengeance Trilogy: Angry Vengeance, Old Boy, and Lady Vengeance. It's crazy. It'll have you freaking out.
Favorite TV shows?
The Americans and Game of Thrones. And travel related cooking shows that focus on the cultural aspect of cooking and food.
Favorite books?
I never remember book titles. There a mystery author I enjoy, Carlos Luis Zaphon. His book The Shadow of the Wind is a particular favorite because it's set in Barcelona, and I love feeling that connection of reading fiction set in a place you've been. Being personally familiar with the setting draws me in and helps paint a more vivid picture of the action.
How about a favorite quote?
"The only things we can't do are the things we've never tried to."