You have a really powerful story about how you found your way into fitness and wellness, but many people might not know how your passion for helping people in this way began. Would you give us a little insight into the trajectory?
Of course! My passion for fitness and wellness began with a combination of life events that sparked a wake-up call for me. First of all, I grew up in a family that was extremely passionate about exercise and eating well. My mother mediated and influenced one of my biggest food values – eating your veggies.
My whole family was into yoga, but I decided I wanted a different path, so after being introduced to Pilates in school when I was 14, I decided that would be my practice. I became addicted by Pilates's ability to make me feel internally long, strong and centered after every class. My love of Pilates continued to grow, so when I was about 19, I became certified in Mat Pilates through Power Pilates after one of my instructors encouraged me.
That's pretty young! Did you know then that you wanted to teach Pilates and pursue a career in wellness?
Not exactly. I taught off and on while in college at the University of Michigan. But my real wake up call to the wellness world, came in 2010 while I was studying abroad in Argentina and was diagnosed with cancer – Hodgkin's Lymphoma.
I flew home to NYC to start 6 months of chemotherapy. In the midst of going through chemo, my family and I suddenly lost our mother due to complications with her 10-year battle with Leukemia. This "life interruption" made me realize how precious life is and sparked me to truly listen to myself, find my inner passions and power, and live the life I want to be living.
That's an incredibly sobering, yet powerful realization. How did wellness factor into it for you?
I experienced first-hand the power of wellness as an active practice. In order to help manage my anxiety and support my mental, physical, and soulful body, I deepened my meditation practice and made working out part of my daily ritual. Through meditation, especially, I survived and thrived while going through chemo and grieving my mom. The experience made me passionate about helping others discover the power in caring for themselves.
So, I finished chemo, graduated from Michigan a semester later than all of my friends, and decided to move back to Argentina by myself – a place I fell in love with before getting sick. I started my own Pilates and meditation classes in Buenos Aires, teaching mostly to the expat community. My favorite being Sunday evening sunset Pilate's class on my roof.
What a brave move that sounds like resulted in an incredible experience!
Yes, it was amazing. Not to mention, I met my fiancé, Quintin while I was there too! However, as much as I loved working with people physically and mentally, I was craving more tools to be able to support people emotionally too. So, after a year and a half in Buenos Aires, when Q wanted to move back to his hometown of Seattle (as a Manhattanite, I had no idea where Seattle was, by the way), we moved here, and I decided to go to coaching school at iPEC to further develop my skills to support people caring for themselves holistically.
It sounds like you do a whole lot more than just teach Pilates?
Yeah! In addition to teaching Pilates and meditation, I spend a majority of my time working with 1-1 coaching clients, running group coaching programs or facilitating corporate workshops around the country. I specialize in supporting busy professionals by strengthen their mindfulness muscles, so they can make more intentional choices in life.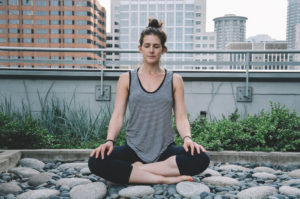 That's fantastic! You mention teaching mediation. We're thrilled to have your Monday Morning Mediation class on the ZUM schedule!
Me too! I'm so excited to finally be able to offer a regular mediation class to the ZUM community. Meditation has become the foundation of my life in a very realistic way. It's the cornerstone of my morning, allowing myself to ground my mind, body, and thoughts, so I don't let my monkey mind or external thoughts or forces rock my boat. I'm thrilled to create space for ZUM members to explore mediation and develop their practice.
Can you tell us a little more about the class and what to expect?
The class is designed to help you ground in mind, body, and breath before your work week begins. You'll feel more centered before noise, priorities, and obligations pull you away from being fully present in the moment as you move through your week. The goal is to emphasize the importance of being present. When we detach from thoughts from the past or future, we experience incredible freedom and clarity and are able to just fully be.
Who can benefit from meditation?
Everyone who has an open mind! People who are looking for help managing stress, improving sleep quality, and dealing with anxiety – to name a few specific examples.
What would you say to someone who is new to meditation or might not think it's for them because they can't imagine quieting their mind?
That's great! You're not supposed to shut the noise down. You can't stop the waves from coming, but you can learn to surf. Come experience it and try to stick with it. When I first started meditating it took about 6 months before I really began experiencing the benefits. A lot of people don't keep practicing because they don't experience immediate feedback like they do when they workout; however, daily ritual and sacred time for yourself is invaluable.
That's another reason I was so excited to start a meditation class at ZUM. I'm passionate about helping people prioritize themselves.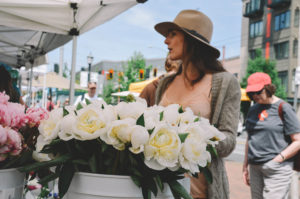 It sounds like that's at the heart of everything you do professionally.
For sure. When people don't prioritize themselves, they don't have energy to give to those they love. My goal is to help people fill their cup of self-care. Within all my work, I emphasize that self-care isn't selfish, it's smart. It's about taking control of what you can (what you feed yourself, how you treat yourself, move your body, what you surround yourself with, and how you restore) and being able to let go of what you can't.
If people want to learn more, they can check out my website – they can get a free guided meditation to try on your own if you can't make it to class. There's also info there about my upcoming group coaching program Summer of Self Care. It's a great opportunity to support you gaining that summer glow and feeling your best from the inside out.