How did you begin teaching at ZUM?

My husband Ivo, who provided some fitness equipment for the first Zum facility on 5th Ave, first introduced me to ZUM. I actually began as a participant taking Joe's class primarily. I loved ZUM's approach to movement and the community, and quickly developed friendships with many of the staff members.
Although I loved the bright white, warm, cozy mindbody space at the old location, I only practiced yoga there a handful of times. Peter asked me to join the ZUM team as a yoga teacher when this new facility was opened, and I have been teaching here ever since.
It's difficult to imagine ZUM yoga without you! You've really been instrumental in cultivating our yoga program. How has that experience been for you?
Thank you. Yes, classes used to be very small and yoga was not the first thing members sought out. As yoga grows in popularity, more people have begun to understand the endless benefits of this practice. I still think though that some members are still a little shy to walk up the stairs to the body-mind studio. There's this beautiful space to discover up there, but the climb can be intimidating. Be courageous and come join us! As we've grown yoga at ZUM, we've tried to create a diverse team with a common thread of knowledge, expertise, and passion.
And what a wonderful job you've done! Speaking of passion, how did your passion for yoga first begin?
Again, I was introduced to yoga by Ivo. A business opportunity presented itself that would move our family from Italy to the U.S. He came over about six months prior to get settled in and prepare the new foundations for me and our son Manu to join him. During that time, he was excited to learn that yoga was much more accessible in the States than in Italy. We had practiced a few times, but there was only one yoga studio and it was a 20 minute drive, so we didn't go often. Ivo called and said, "Yoga is everywhere here! You're going to love it!"
Upon arriving in Seattle, I dove right in, practicing 4-5 times/week at a gym in downtown. One day an instructor didn't show up, and the manager asked me to teach class. I was terrified, but I taught anyhow and it felt like a natural thing. In fact shortly thereafter, I began a 3-year yoga apprenticeship with Lee Atwell in Magnolia. I ended up working at the studio for 5 years. Then in 2007, I went to LA to study with Shiva Rea, completing over 800 hours between teacher training and teaching assisting.
So you've been teaching for almost 15 years? Wow! And now you've published a book of poetry, "Emerald Breath"? What led you to write at this stage of your journey?

I've actually been writing for a long time, when I was young I was gifted a beautiful red diary with a little lock and key. I called it my "diario segreto" – my secret diary. I would write about my ordinary discoveries without holding back every night. Writing was a way to meet the friend within myself, and I would take refuge in it for years. Then I stopped writing for years. The less I wrote, the less I felt the desire to write until I abandoned the ritual.
When I began my shamanic training in 2005, the woman I was studying with told me there was a poet living in my heart that was dying. That was a powerful truth to hear. Poetry came to life for me then as my journaling practice returned. One really begets the other. I would journal as a way of freeing my energy and understanding my mind. I'd just put my pen to the paper and write freely – stream of consciousness type writing. After rereading it, I'd find myself drawn to a line or phrase and I'd begin to muse over the idea as a meditation and a message would come that would begin to shape a poem.
That's really powerful. It sounds as though your journaling combined with meditation was the foundation of your process. Am I over simplifying it? Was there more to it?
Yes, I think my poetry writing process is another expression of how I live my life. As I often say in my classes, yoga is a way of life – not just the work you do on your mat. We apply that work to our lives off the mat.
In addition to yoga, I practice daily meditation on the cushion, shamanic work, dance and Ikebana. Ikebana is a Japanese contemplative art of flowers design. It's another form of meditation that helps me to be fully in the here-now and create, in a playful way, with flowers and branches.
Through my various meditative – awareness practices, I'm able to tap into the raw truth of the present moment in a creative way. That's where my poetry springs.
We are all poets at heart. We are all constantly creating – thoughts, ideas, patterns. It's when we ride our creative energy and have the courage to be open and led by the moment that our inner artist is revealed. The challenge is to let go of control and fear as to not miss the moment.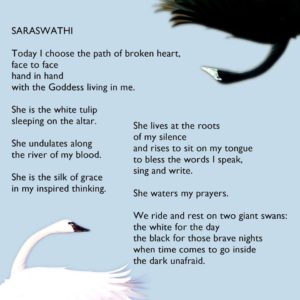 Now I'm feeling inspired to tap into my inner artist – thank you! What has your experience been releasing your book?
It's been one of the most challenging things I've ever done. I sabotaged this work for years through self-doubt and fear of failure. "Am I good enough? I don't write the way the masters do, so why should I publish these poems? Will people like it? Who reads poetry anymore?" All these thoughts and more. But now, it's empowering because I did it! And people need it. The book has had an incredibly warm, positive response. It's reaffirmed for me that holding back doesn't serve anything. We need to overcome our own blockages and embrace our gifts, sharing them without fear. We never know how much we touch others.
One of my purposes in life is to inspire and empower others to dare to express themselves, and I think this book is another way of doing that.
Absolutely! I don't think anyone could deny that you're an inspiring person. It seems you're always growing and expanding your horizons, so what's next?
My vision is to continue to reveal what is still concealed, to discover what I don't know, to continue to learn and weave it all together. I'll continue to dive into my yoga and shamanic practices and art – maybe pottery or basket weaving – something very tactile. I'd love to take a cooking class too!
You also have your new adventure of being a grandmother!! Congratulations!! How are you enjoying this new role?
Oh!! It's so wonderful! It's like holding my son for a second time with a different awareness and different responsibilities. I'm not involved in the day to day, but I feel responsible for instilling values and being a strong root. He makes me want to be a better human being, so he can be proud of me.
That's so beautiful. He's a blessed little boy. Thank you so much for your time and sharing with us today, Cosetta! Are there any other thoughts you'd like to share with our members?
We create our own reality with our mind, so pay attention to what you are creating. Our words, our actions have power and create an outcome, so choose wisely what you want to create.