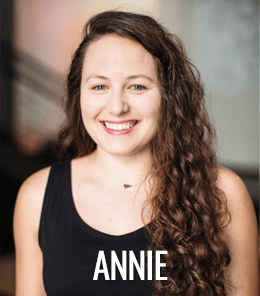 Hi ZŪM Fitness! I am your new Yoga Lead, Annie King. I'm the barefoot girl bopping around in and out of the Mind Body Studio, studying on the pilates equipment, or improvising with weights as I attempt lifting things for the first time (SOS). I began at ZŪM in June 2017 and I teach an all-levels power yoga class on Monday evenings and Tuesday afternoons.
I remember my first few weeks here vividly. It was my first time teaching yoga in a gym and not a yoga studio. I wasn't sure if my approach would land on my new students or how I would like teaching in this new setting. So many things were different from my previous experience; no mirrors, no heat or humidity, no rules or set sequences that I had to teach. It was an exciting and unfamiliar experience to have freedom and trust to create my own class. You all were so genuine and open-minded and this inspired me. ZŪM turned out to be exactly the teaching place that I needed and would thrive in.
I am so delighted and eager to be your Yoga Lead and I want to share my vision and goals for our Yoga Program. Our program is already rich in diversity and talent, ranging from lunch time power flows with myself or Shuja to soothing and energizing evening Hatha Flow with Atlee, and even more weekday and weekend offerings in between. First up on my agenda is to add morning classes to our schedule. Starting February, we will offer a Tuesday and Thursday 7 am practice. These classes will be a vinyasa practice for all levels taught by two of our newest yoga instructors. Stay tuned for our announcement of who they are! By June, it is a goal of mine to have morning classes every day of the week.
Our unique yoga staff will begin to offer a workshop once a quarter. These workshops will cover a breadth of topics, encouraging creativity, new skills and community. To list a few: Intro to Yoga, Essential Oils, Inversions and Arm Balances, Yin, Chakra Flow or Yoga for Weight Lifters. Look for our workshop announcements around the gym and on our social media. Please come try out any of our yoga classes! Each class is mindfully constructed for all levels and our teachers are skilled at accommodating every body type and goal. Yoga is such a great practice for focusing the mind, improving balance, muscle endurance, mobility and overall awareness for yourself. We also offer private yoga instruction. Reach out to me if you are interested in working one-on-one.
On top of taking on this new role at ZŪM, I am also training in STOTT Pilates at Bodycenter Studio in Fremont. This has been a goal of mine since I took my first pilates class as a teen in Gorham, Maine. My physical therapist at the time said I could stop PT if I started Pilates. Pilates is the work that stitched and glued back together my hypermobile and tired dancing body. It helped me to become aware of my postural and movement habits that were causing pain and imbalances. I completed Mat and Reformer courses this past fall and I will begin Cadillac, Chair and Barrel courses this spring. I look forward to teaching Pilates at ZŪM!