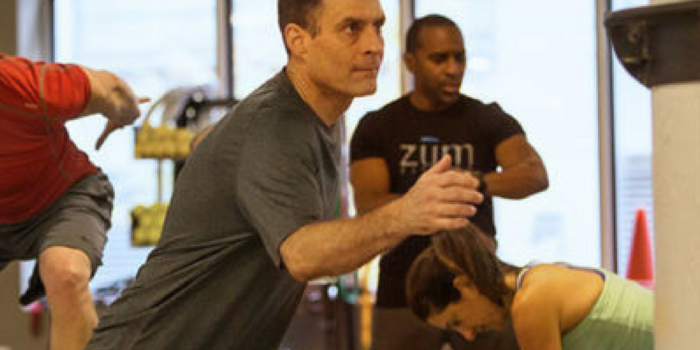 "Fitness is not about being better than someone else…It's about being better than you used to be."
I have no idea who said that, but turns out it's a major driver of the philosophy of not only ZUM's fitness training, but also our group exercise offerings. Our focus is on helping you identify your weaknesses, no matter how slight they may seem, and building them so they become strengths.
Our classes are creative, thoughtful, and especially diverse in their approach and goals! This diversity is central to producing a well-rounded ideal of fitness that strives to reduce or eliminate the pain or ability-derived compromises many of us feel we have to make in day-to-day or athletic endeavors.
Having watched how members have used our classes over the last 15 years, I can confidently say I've witnessed the most success when they've frequented a variety of classes, as opposed to consistently attended only 1 or 2.
Have I got the point across yet?? We want you to utilize as great a variety of our classes as you can – Best part: they're free with your ZUM membership!
We do our best to structure the class schedule so you have diverse offerings that, combined, will give you a well-rounded stimulus. This diversity will allow you to recover more effectively, and make your body feel stronger over time, not run down.
I've compiled a few sample weekly-class plan suggestions that you can utilize no matter what time you tend to come in to ZUM.
Type-A.M. Crowd
Monday – Yoga w/Biola @ 7:00am – A great way to get in touch with your body to start the week.
Tuesday – Hardcore w/Joe @ 6:30am – Find your center, and move in all of the fundamental planes.
Wednesday – Cycling w/Liz @ 6:30am – A nice a.m. ride with Liz's sweet and gentle encouragement…not really.
Thursday – Rest – This is your trainer speaking…
Choose option A or B – Do what feels right for your body.
Option A
Friday – Push/Pull/Power w/Erik @ 7:30am (Just what the name says – Apply force, build strength.
Saturday – Go for a walk outside or rest
Sunday – Yoga w/Molly – A little challenge with your ZEN??
Option B
Friday – Yoga w/Julie – Gentle, focused, and imperative.
Saturday – Weigh Crazy w/Tony – Time to push a bit in this advanced class that focuses on Olympic and weight-lifting fundamentals.
Sunday – R E S T
Mid-day Break Crowd
Monday – TRX Strong w/Mary @ 1:10pm – All about results. Mary will push you by using everything at her disposal to improve your function and strength.
Tuesday – (Mo)bility w/Mo @ 12:30pm – Gain dynamic flexibility and body awareness while you encourage your body to get ready for the next challenge.
Wednesday – Yoga w/Annie @ 12:00pm – Om….
Thursday – Cycling and Abs w/Liz @ 12:00pm – Pretty self explanatory.
Friday – Pilates w/Mo @ 11:00am – Re-establish and strengthen your core stability.
Saturday – Weigh Crazy w/Tony Moses – Get up a bit early and move with Tony M!
Sunday – R E S T
Rush hour – Evening Crew
Monday – K.O. w/Kellsie @ 5:20pm – Boxing skills from a ring veteran. Fun for all levels.
Tuesday – Pilates w/Wade @ 6:30pm – Strength and Core focus. You can't go wrong.
Wednesday – P.E. 101 w/Jordan @ 5:30pm – Focus on the fun in fundamentals. Games, challenges, and a little competition.
Thursday – Hardcore w/Jordan @ 5:30pm –
Friday – Outlast w/Sierra @ 5:30pm – Challenges, games, movement, Sierra.
Saturday – R E S T – Your body needs and deserves it.
Sunday – Yoga w/Molly @ 9:30am – Bo(OM).
If you'd like a more personalized approach to your class and workout programming, reach out to me at derek@zumfitness.com. I would be happy to answer questions or set you up with a trainer to give you some advice on which classes to take, and how to integrate them into your fitness program.
Remember, almost everyone's goal is to become stronger, not to beat yourself down – they are not one in the same. Make sure your workload reflects this.