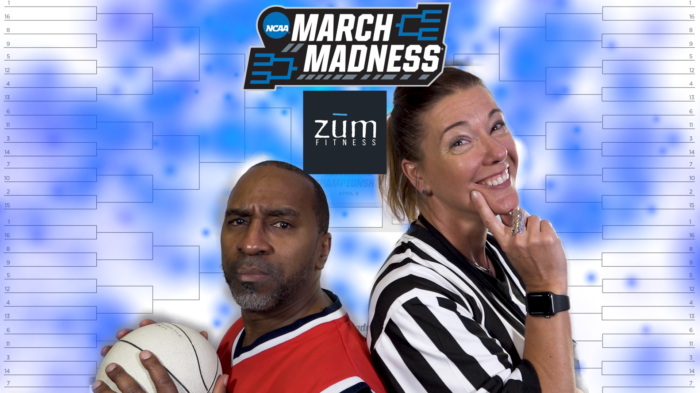 The Member Fitness Challenge is about to Begin!
It's Easy- Pick your teams and exercises, do your workouts, and win!
Signups are closed and the games are on!
Movements and Teams
Here's your list of exercise movements, teams will be added as results come in. Rules and more info below.
---
Rules and FAQs
Step 1. If you think you MIGHT be even the tiniest bit interested in participating in the March Madness Member Fitness Challenge, email Liz. She will keep you up to date on what's next: liz@zumfitness.com.

Step 2. Wait. We are at the mercy of the NCAA until Selection Sunday on March 17th. Once the teams that will be playing in the tournament have been announced, we are off to the races. If you have emailed Liz, she will email you the bracket you'll need to participate.
Step 3. On MARCH 18th submit your bracket. Pick the winners of each game. Don't worry if you know nothing about college hoops. In fact, it seems the less you know the better. Joe won last year with ZERO knowledge of college basketball. Upsets and drama are what put the Madness in March Madness.
S
Step 4. Wait…and if you are so inclined, watch the games. After the first round of games the field of 68 will become a field of 32. When that happens (on and around March 21st) the Member Fitness Challenge begins!

Step 5. Play! Each winning team is matched to an exercise presented by ZUM's team of Personal Fitness Coaches. Your job is to do the exercises matched to the winning team of each game. Exercises can be found on the ZUM You Tube channel and will be searchable by team name.
Step 6. Win! Participants win points by completing the exercises of each winning team and by picking the right team. The scores are tallied as follows: correct team pick – 1 pt. Complete the exercise- 1 pt. If your team wins and you do the exercise- 2 pts!

FAQs:

Where can I get the brackets?
Email Liz to get in the game and she'll send you one or on March 18th, or grab one at the front desk.

What's the deadline to join?
March 18th.

What the heck is March Madness anyway?
It's all explained here:https://www.ncaa.com/news/basketball-men/2018-10-10/what-march-madness-ncaa-tournament-explained

How much do I have to know about college basketball?
Nothing. Seriously. Nothing.

What do I do with my bracket once I've filled it in?
Tape it to the blackboard at the trainer bar.

Can I win anything?
Yes! We're playing for bragging rights AND a Tom Douglas restaurants gift cards:
3rd place: appetizers ($25 gift card)
2nd Place: drinks and appetizers ($50 gift card)
1st Place: Tom Douglas dinner ($75 gift card)
The Inspiration
Read Liz's Basketball Story
Basketball and I have a fraught relationship. I love the game and marvel at the players. As a kid, basketball was the sport that provided father/daughter bonding every spring as we competed over brackets and went to college games as often as possible–a tradition picked up by my son and his trips with his grandfather to watch Drexel and Villanova games (recent champions…just sayin'). However, it's a sport that I have no chance of ever enjoying as a player. Not just because I'm height-challenged or afraid of any sport involving balls (which I am), but because it nearly got me kicked out of middle school. True.
As a boundless 7th grader, I embraced the basketball section in PE class. I was so excited to really learn the game, to learn how to use my ballet skills of graceful pivots and vertical leaps to perfect an effortless lay-up. The spirit was willing, but the "grace" was not transferring in quite the way I had hoped. But I was optimistic, and I was motivated. The proverbial boards were pulled from underneath me when my parents were called into school for an unscheduled parent-teacher conference. They were asked to observe my behavior in one of my classes–neither my parents nor I had any idea which one. I panicked and replayed all the questionable behaviors and crimes of the classroom I had committed. It was not a joyful 24 hours.
When the day of the big visit came, I entered every class with foreboding, and a certainty that whatever missteps had led to this day could be explained away, redirected to another student or that perhaps an undiscovered fault line in Southern Colorado would suddenly shift, and with it, the focus of the day. No such luck. As every class passed, my anxiety increased, until PE, which I assumed was a safe space. I cheerfully changed clothes knowing that today would be the day that I finally "got it" and that basketball would be mine.
Then, I saw them. My parents. They were courtside at PE. PE? PE was my problematic class? WHAT? Apparently my play was so very, very bad that my teacher assumed that I was messing around. My dribbling was like none my teacher had ever seen before. It could not be a student actually trying. I had to be misbehaving. At this point in the story, I don't know who felt worse, my parents for having to tell my teacher that the face I was wearing was not one of disruption, but of serious concentration, my teacher for telling my parents that their straight A student was going to fail PE, or me, who thought I was killing it. Not only was I trying to play well, I was trying really, really hard. I was all over that court….mostly chasing a ball that I had dribbled off of my big toe, but in my mind I was lightning fast. My dream of playing a game that I loved watching died that day. The choice proposed by my teacher was that I either learn how to "manage the team" or fail the class. Needless to say, I became the best, most exuberant manager a middle school basketball team had ever seen.
So now, when March Madness rolls around, brackets are available, and there's a chance to be a part of the game, I join in with a passion that edges on fanaticism. ZŪM has upped the ante, and the gameplay, with exercises that don't involve a net, a ball or complex coordination. Everyone can be a "baller". It is a dream come true. Join me and live the dream as we kick-off ZŪM's March Madness competition March 17th. Not convinced? Just watch the video of Derek and me re-igniting our ZŪM March Madness rivalry (no skills necessary – thankfully!)
Join us and get in the game.