Back when you first joined, what made you choose ZUM?
I joined back in 2008! I had just moved back to Seattle from Philadelphia and was looking for new gym home. To be honest, the old ZUM location was really convenient for me, and I could walk there after work. However, I did shop around, and I really liked the culture and atmosphere at ZUM. Everyone was there to workout, but it wasn't a meat market. It was all about where you are in your journey, not about everyone needing to look a certain way. And everyone was so nice. I was also looking for a gym with really good classes, because I'm not a self-motivated fitness person. I really loved ZUM's classes and great instructors. It was a cool, unique space too!
After I got engaged, my fiance (now husband) Sandeap joined as well. A couple years later, my sister Nisha also joined.
Why do you work out?
Initially when I joined back in 2008, I wanted to maintain my physical body I'd worked so hard on with vigorous workouts in Philadelphia. I was absolutely able to do that at ZUM with classes and personal training. I trained with Lydia for years, Ren for a bit, and now Mo. Over the years, the reason I work out has changed. Now I workout because my body needs it. It's about strengthening my body and getting a stress release, not about weight loss.
What results have you achieved since being at ZUM?
This is tough since I've been a member so long. Although it's not a traditional "result," something that's really benefited me over the years at ZUM is the support I've felt at ZUM. It's kept me motivated and moving forward. Regardless of where I was on my physical body journey, I've always felt supported at ZUM.
What do you like best about ZUM?
The people. The energy. Not going to lie, the locker rooms are amazing. The fact that there are Aveda products, keypad locks, and towels, so I don't have to worry about bringing those things is huge! That may have swayed my decision to join back in the day. 🙂
But seriously, the people are awesome. The trainers are awesome. Everyone is really supportive. Trainers aren't about the "hard sell." They will help you modify a movement or correct your form in class or out on the gym floor whether you're training with them or not. They really care about you.
What would you say to someone who is new to ZUM or thinking about joining?
It's awesome! I would usually use the locker room sell first. But really, the classes are awesome, the people are awesome…and there are Aveda products in the locker room.
What's a fun fact about you we may not know?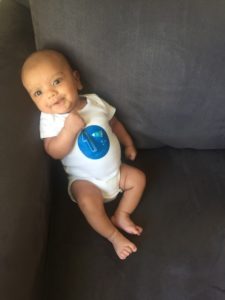 Well, Sandeap and I just had our first child, Devan! I think we may be the first ZUM members to be engaged, get married, and have a child while being consistent members. That's kind of fun!
I'm a pretty good cook too. Sandeap and Nisha are always requesting my chole – an Indian chickpea dish.
I'm also a true Seattlite! We're pretty rare these days. Along with being a Seattlite, I'm a huge Huskies fan – my whole family is! We're excited to get Devan in on the fun this football season!
What's your guilty pleasure?
Food? But l don't feel guilty about that at all. Maybe binge watching shows on Netflix.
So what are you bingeing? What's your favorite TV show?
Oh, there's too many to choose! We're breaking this down at least a little. For a comedy, Seinfeld is a classic. It's hard to beat it. Curb Your Enthusiasm is pretty great too, and currently I'm loving Blackish. Drama? Battlestar Galactica, The Wire, This is Us…there's just too many. Right now we're bingeing Being Mary Jane.
What's your favorite music?
We're pretty eclectic. We like a little bit of everything: Bollywood, hip-hop, pop, rap. Nursery rhymes are getting up there; lullabies. 😉
Is there anything else you want to share about your ZUM experience?
ZUM has seen a lot of change over the years. For me, going through the ups and downs of these changes as community really solidified a feeling of family. ZUM really is a family, and that's something I love about it.