Back when you first joined ZUM, what made you decide you wanted or needed to join a gym?
When I joined back in January 2014, I was experiencing very subtle issues with my left leg and hip, and I basically wanted to do more yoga and strengthening. My friend Kirsten had highly recommended ZUM, so I joined and started doing regular yoga classes and Joe's Hardcore class in addition to riding into work. That was standard fitness routine until the spring of 2015.
During that time when I was working out at ZUM, I was also seeing different doctors and having MRIs. They thought my leg and hip was a lower back issue that was causing some nerve problems in my left leg and weakness in my lower left leg. So, I was working through these physical issues with doctors, physical therapy, and ZUM.
In April 2015, a doctor wanted me to get a MRI on my neck and brain, just to rule it out, and they found something in my brain. It actually took almost a month to diagnose the problem. It was a brain tumor. That was a crazy month, to say the least. I ended up getting connected to the UW Medical Center and a neurosurgeon there, who was really amazing.
The evening after I met the neurosurgeon and scheduled a biopsy to poke a hole and see what kind of tumor it was, I had a seizure. So that really did a number on my left leg. Luckily, things were really moving with my doctors at that point, so I had the biopsy the next week, they figured out what type of tumor it was, and came up with plan for treatment. From June 2015 until July 2016 I did proton radiation and chemotherapy. So far the treatment results are the best as can be hoped for.
To add to everything, my wife, Kim, was pregnant when I was diagnosed. So about half way through my treatment, on November 11, 2015, our daughter Rosemary (Rosie) was born.
The diagnosis was certainly chaotic and crazy, but once we knew what it was and had a game plan for treatment, I felt a lot better about it. I really looked at my situation and realized I didn't want to fight the tumor. My neurosurgeon told me that every brain tumor is unique to the person – it has never happened in the past and will never happen again in the future. That resonated so much with me. I realized this tumor is part of me. I don't want to battle it, fight it, and kill it, because I would be battling myself. I want to figure out how to continue living and thriving with it. So, that's been my attitude going into treatment, through treatment and even now. Of course, Kim being pregnant and knowing we were bringing a kid into the world during all of this, made it easier for me to focus on the good things and being positive. I wanted to bring a kid into a household that's happy, loving and hopeful; not scared, fearful and anxious; so that's what we did!
So where are you in your recovery?
Doctors and other cancer survivors I have talked to say it takes about as long as your treatment duration to recover from its effects, and I'm almost a year past treatment, so I'm getting closer. It's been a slow steady increase of energy – the cumulative fatigue from chemo was rough. My leg is also getting stronger which is awesome!
As of April, I'm back on my bike and riding outside after riding all winter on a spin bike, which is amazing! I'm back to my addictive cycling self. My cycling goes way back. In college, I rode a lot – road bike racing, commuting, recreational riding, some cyclocross. I actually got back into biking (2014-ish) when my leg started having problems because I couldn't run, backcountry ski or standup paddleboard as much. Before the seizure I was cycling maybe 100 miles a week on average, so it feels so awesome to be back on the bike!

Since joining ZUM, what results have you achieved?
My time at ZUM has been pretty funky with everything that's happened. Before I was diagnosed, ZUM helped my body maintain strength and be able to do what I wanted to do. Now, it's helping me get motivated to rebuild physically. ZUM supports me as much mentally as it does physically. I've really been enjoying the meditation class and the community it's created. It's motivating me to stay positive and be more active.
What do you like best about ZUM?
The uniqueness. High-quality yoga classes, meditation, non-traditional fitness classes. ZUM isn't your average gym.
What would you say to someone who is new to ZUM or considering joining?
It's a cool place; there's cool people. ZUM is a community-based gym. It's definitely worth trying out to see if it's right for you.
What's a fun fact about you we may not know?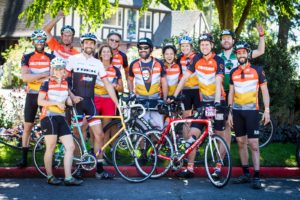 This is the second year I've organized a team for Fred Hutch's Obliteride. Last year we had 12 riders on my team and raised over $6000. I was also asked to speak before the 25-mile ride last year. It was a cool experience to feel the support. I didn't have much expectation for the event, but there was just great energy surrounding the ride and the whole event.
Joe came to watch the race and has been really committed to ZUM supporting Obliteride and my team this year. There will be opportunities coming for the ZUM community to get involved. It's super exciting!
We're really excited about the ZUM community joining and supporting your team too! If any members want more info, they can check out the team page here. How did you get involved with Obliteride?
I first heard about it from a friend at work. She introduced me to the director of Obliteride at the time, Amy. Amy was really interested to hear my story and my perspective of looking at my cancer in a positive light, thus she asked me to speak, and I decided to sign up knowing the 2016 ride would be at the end of my treatment.
For those who may not know Obliteride is an organized cycling event that raises significant funds for Fred Hutch cancer research. So it's important to me because the results of this research may save my life someday. I'm not expecting a cure for cancer will be found anytime soon, but more treatment tools to keep people like me alive and thriving is very possible.
And now for something completely different….what's your guilty pleasure?
Candy – Swedish Fish are probably my favorite. And potato chips. If we're not talking food, I love cool gear. I'm already scheming to get a new bike. I see it as a good sign that I'm getting healthier!
Do you have a favorite ZUM class?
Meditation. For sure.
Is there anything else you'd like to share about your ZUM experience?
ZUM is a comfortable place for me. Members have asked about my limp wondering if I've had an injury. When I tell them, "Nope, I have a brain tumor," they're cool about it. I've learned that's not always the case out in the world. I really enjoy the community too. Seeing familiar faces of friends, family (my cousin is a member), and co-workers is really cool.