Father's Day may have passed, but that doesn't mean it's too late to feature one of our amazing ZUM dads, Ian Anderson, as our June Member of the Month!
Ian's been contributing his warm, joyful energy to the ZUM community for almost 6 years now. Although he's a bit of a loaner when it comes to his workouts, but it's the familiar faces and warm ZUM culture that keeps him coming back to ZUM day after day. Ian's life has changed a lot these 6 years, but ZUM has always been constant. We hope you enjoy learning more about Ian, how ZUM kicked off his Seattle experience, and how fitness supports his jam-packed daily life – especially now with an active 3 year old son!
Thanks so much for agreeing to chat with me and share your story with us, Ian! It's really fun to share your perspective on your experience at ZUM as someone who comes in mostly sticks to yourself, but is still such an active, present member in our community for so long! Not to mention, you're one of ZUM's most famous dads with that photo of you working out with your newborn son, Patrick, in the Kinesis area. How is Patrick? I'm almost afraid to ask how old he is now.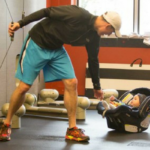 It's my honor to be featured! Patrick is great! He's three now and such a sweet boy, but very boisterous. He loves playing at playgrounds, goes to soccer every Saturday, and he's even learning how to ride a tricycle. He's very much in a jumping stage – testing out his daredevil skills. I try not to be the helicopter dad finding balance between keeping him from doing anything too daring and letting him be a three year old boy. It's amazing to see him test himself with what he can do physically and watch him learn and realize he can do new things seemingly everyday, get comfortable in them and then challenge himself again.
I love that! It sounds like his a very active little guy. With the amount of time you spend at ZUM, I'm guessing he takes after his dad. Were you always an active kid?
Definitely! I grew up in north suburban Chicago playing baseball, basketball, tennis, soccer, golf. I was always playing sports, watching sports, all that stuff. So, I was definitely very active. By the time I got to high school, I focused in on my best sport, baseball. I played Varsity and was certainly at a point where I could have kept playing, but was very much burnt out. My heart wasn't in it anymore. My senior year, I c decided not to play and switched to track. I quickly really took to it's training regimentation and realized, although I was in good shape as a baseball player, I had little appreciation for how good of shape you had to be in to be an elite runner. I love the track training regimentation, had really great coaches and it was a great feeling to see myself develop and progress as an athlete. That year really put my fitness journey in motion. It's been continuing ever since through my time getting my Undergrad and Master degrees from Notre Dame and my early career in Miami, and now at ZUM in Seattle.
How awesome that you were able to find your fitness footing so early in life! I didn't realize you lived in Miami! How did you make your way to Seattle?
Yeah, after living in Illinois and Indiana, I had a desire to upgrade from a climate perspective and professional opportunities that took me to Miami after grad school. I lived there for about 6 years and worked extensively throughout Latin America doing various accounting and consulting type work. I met my now wife there, and about a month after our wedding in 2012, she was offered an exciting opportunity at Nordstrom, so we moved to Seattle.
How did you find yourself at ZUM?
Actually, our first introduction to ZUM was on a Saturday morning prior to moving on a 36-hour apartment hunting trip. We stayed at the Westin and were up super early, got coffee and stumbled across ZUM. We were like, "Sweet! Let's go check it out!" Ann Johnson (who's still here!) was at the desk that morning. She gave us a tour, and we knew there was a seemingly great place to workout right downtown.
I love that you went gym shopping the first 36 hours you were in Seattle. What were you looking for?
I had my routines established at that point, so I was looking for a place where I felt the people were friendly with great facilities and equipment. It's amazing to me that six years later, so many of the people who I would encounter early on then are still here today. Even if I didn't realize it at the time, there was a community here that was so welcoming – especially for someone in my situation who had moved from out of state and was not necessarily cemented to Seattle by work and life. ZUM was one of the few places where I could go and see familiar faces.
I couldn't agree more. I've often said ZUM is one of the first places for me that made Seattle start to feel like home. You're not a traditional goal-oriented person in the sense of weight-loss or lifting a certain amount of weight, but is there something you would consider your greatest achievement or result over the course of your time at ZUM?
I realize turning 35 is not an old birthday, but because of the motivation I getting to ZUM as many days as possible, working in my workouts here with running, cycling, and hiking and my other activities outside the gym, I feel I'm in better overall physical shape in my 30s than I was in earlier periods of my life when I didn't necessarily have as many demands on my time. I'm just as motivated, just as excited, and just as happy when I get here today, as I was 6 years ago when I was still acclimating to the community. Even if I didn't necessarily give credit in my own mind to ZUM enabling that, it's been a huge part of my daily routine. I've had multiple jobs during that time, we had my son (who's now three), and there have been a lot of other life changes, but ZUM has been a constant.
That's really awesome. With all the changes in your life in the past 6 years, has the role fitness plays in your life also evolved or has it remained consistent?
Exercising has never been something that I have to talk myself into. I've always enjoyed fitness, so I work it into my daily routine as much as possible. In my 20s as I was building my career, fitness was an outlet from corporate life and the stresses that come along with that, and it was easy work into my schedule easily because I was single. It's certainly shifted though. Now, fitness has become much more of a way for me to clear my head, de-stress from professional challenges and worries I tend to carry with me outside the office. Exercise is by far the most effective way for me to constructively work through that stress. I always come out of working out feeling better than I did when I started. Not once have I been on the fence about exercising, worked out, and then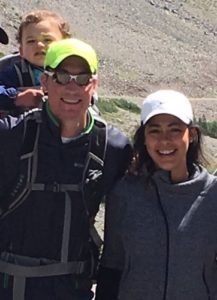 said, "I shouldn't have done that." It's had a huge impact on my stress management.
Since becoming a dad, I'm so much more aware of my energy levels, because I have someone who relies on me 24/7. Especially now that he's 3 – his energy levels seem boundless. I want to be able to be active with him as he grows and becomes more active in different things. From a mood and energy stand point, even after long days, I want to be able to make the most of our time together and be as good of a dad to hi as I can. Having a regular exercise and routine, on top of other good, healthy life habits, is the best way to ensure I can there for him in the ways he enjoys. As he gets older that's going to be all the more important.
So powerful! You so beautifully articulated what we believe fitness is all about at ZUM – being able to be your best self for the people who are important in your life and do everything you want to do. It's one of many things I love about ZUM. What do you like best about ZUM?
The best thing about ZUM is the sense of warm, welcoming community. Which is kind of funny since I've been a member for almost 6 years, and have never taken one group class or done a personal training session. Typically when I'm here, I have headphones in and I'm in my own little universe. I certainly enjoy saying hello to all the people I know and love having conversations with so many folks who are always up for a chat. I may not be drawn to the group classes, but I like that fact the community they build is such an important part of ZUM's warm, welcoming culture. I might be a little on the outside looking in, but I love that it exists and it means a great deal to me to be a part of that.
Aww, I love that so much. It means a great deal to us to have you in our community! That's one of the reasons I wanted to share your story. You took a less traditional route by doing your own personal workouts and being open to connecting. I think that's really cool. What would you say to someone who is new to ZUM or thinking about joining?
If someone is thinking about joining I would say, "stop thinking about it and do it, because you won't regret it." To someone who is new I would say, "if you're someone like me, who's maybe a little on the shier side, don't let that stop you from making relationships here as much as you possibly can. There's not a single person here who won't answer questions you have about whatever fitness goal you're working toward, or how to use a piece of equipment, or who to go to if you're looking for a trainer." I've developed friendships with enough people here who leverage what ZUM offers to a pretty wide extent and they're all finding their niche in what this community has to offer. Most places, you can't really get there without reaching out to people. The nice thing here is you will also get reached out to. ZUM has been part of my Seattle experience living here for 6 years now and hopefully for many years to come!
Heck yeah! We sure hope so! Now it's time to get to know you a little better. What's an interesting, fun fact about you we may not know?
Well, I'm an accountant which probably makes me all the less interesting. My experience traveling in Latin America early in my career was something I certainly something I learned a lot from. I studied in Spain my junior year in college and was able to travel pretty extensively though Europe during that time. Travel has been a big part of my development and I hope to have more opportunities with my family as Patrick gets older.
I love audio books and podcasts. When you see me here with my headphones in, probably 75% of the time I'm not listening to music. I guess I'm kind of a furious multi-tasker. These days I don't have as much time for pleasure reading, so I have to find other ways to satisfy my desire for new perspectives and knowledge and information.
Every day after work, I like to eat a combination of cashews, pistachios, and macadamia nuts. I have a really particular preferred balance of those three. It's a weird routine I have.
What's your guilt pleasure?
A guilty food pleasure would be Lou Malnoti's deep dish pizza from Chicago. Any ZUM members who are transplants from Chicago hopefully know how awesome that stuff is! When I'm home in Chicago it's always a must. They also ship their pizzas anywhere in the lower 48 Statess, so I have two in my freezer right now.
Favorite movie?
That's a tough one. I would say the movies I've seen the most are Godfather I & II.
It's totally cliche, but as a kid, teenager, and then as a student at Notre Dame, I was a big fan of the movie Rudy. I've probably seen that as many times if not more than the Godfathers. I don't see a lot of movies anymore. The last one I went to in the theater was Moneyball in 2011,
Favorite TV shows?
We went through a Homeland phase, a House of Cards phase, so pretty much anything we can stream on Netflix or Prime. We have a tendency to fall asleep about 30 minutes into a show.
Growing up my siblings and I would watch a lot of Full House and Saved by the Bell, so I have certain nostalgia for those shows.
Favorite books?
I try to read the Sunday New York times every week – the print edition. If I can get though that every week, I'm feeling pretty good. I also read a lot of business publications.
I've gotten into the author Matthew Kelly recently. I'm currently rereading his book Resisting Happiness. I've been on sort of a self-performance type kick for the past 6-12 months, so I like a lot of the Tim Ferriss books too.
It sounds like you often listen to podcasts rather than music, but do you have favorite music?
I've listened to very little new music since college. If you look at my iTunes library or if I'm actually working out to music it's probably going to be 90's hip hop from high-school: Tribe Called Quest, De La Soul, Camp Lo. If I'm just listening to music for pleasure, odd are it's probably going to be jazz – the 50's and 60's John Coltrane era music. I can listen to that era of jazz over and over again and never get sick of it.
Any final thoughts for us?
As my perspectives have changed and I've matured, since becoming a dad, in particular, I'm keenly aware of how everything you put your energy toward, every decision you make plays into the things you can do to make yourself the best version of yourself which will let you be so much better for all the people you interact with and who rely on you. Whether it's the energy you put into a fitness routine, or how you spend your day, where spirituality plays into your life, the meaningfulness you get out of your vocation, all those things balance together in a way that I had very little appreciation for in my 20's when I was just working and traveling a ton and was untethered. Finding a balance that works for you to make you the best version of who you are and how that plays out in your relationships is something I'm so much more acutely aware of now.
ZUM is a big part of that for me. I love coming to ZUM – multiple times a day when I'm lucky. I hope that everyone who is a new member or long time member is as thankful as I am for the gift it is to be part of such a special community. Uniting around fitness and well being is a really cool thing to do, and this is a really special group of people to be able to do that with, so I'm just thankful.