Back when you first joined ZUM, what made you decide you wanted or needed to join a gym?
I had been a member in the past and enjoyed it, but when my office moved further south, it became inconvenient. I had to settle for a pretty bare bones gym closer to my office. It was kind of like the "Average Joe's Gym" in the movie Dodgeball, but it was a means to an end. My wife, Erin, remained a ZUM member and after my bike accident, she encouraged me to work with Tony Moses, so I came back.
Wait, bike accident? Could you tell us more about that?
Sure! I'm a life-long cyclist. I've always loved it in all its forms – mountain biking, cycling, road riding, racing. I ride for fun, for fitness, for competition, and travel. It's a huge part of my life.
Last August, I was feeling really awesome having just come of a great ride at the Breck Epic. It's a 6-day mountain bike race at high altitude. My goal was to use the Breck Epic ride as a fitness builder as I trained for cyclocross season, and it had gone so well that I was feeling super stoked that I was right on track to have an awesome season.
One afternoon, I decided to squeeze in a quick training ride and got hit by a car. I've been riding for 25 years, and I've gotten bumped and knocked over here and there, but I've never been blown up all over the road…'till now.
I didn't really know how bad it was until the EMT told me I was headed to Harbor View while I was strapped to the board in the back of the ambulance.
I was going about 28 mph down Dexter when a car turned into me and I flipped up and over it. My knee took the impact of my fall, driving my femur into my pelvis – blowing it up, but, thanks to the shock, I had no clue any of that had happened. My knee was split open and my kneecap exposed, but other than that, I couldn't see much – just some bruises. So, moments after my accident I'm thinking, "ok, I'm gonna need a few stitches, but other than that I'm fine. I'll be back on the bike in a couple weeks max."
Before I know it there's a giant fire truck, 4 cop cars, and 2 ambulances on the scene. They strap me to the board, load me in the ambulance – the whole nine yards. As any Seattleite knows, there's 2 options of where they're going to take you: Swedish, which means things aren't too bad and you'll likely be discharged within a few hours, or Harbor View, which means you're probably pretty messed up. So, that's how I knew it was worse than I thought.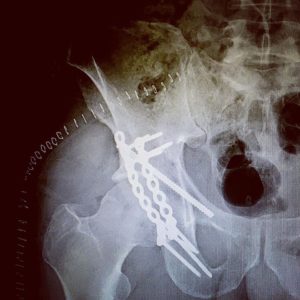 I had CAT scans and X-rays. They drilled a hole in my knee to put my leg in traction so it wouldn't move into my pelvis. It became clear pretty quickly this wasn't going to be 2-week recovery. Nope, I had an acetabular fracture and ended up needing 9 screws, 2 plates, 60+ staples, and 10 stitches.
Recovery has been slow and challenging, but you learn to celebrate the small victories and take it one baby step at a time. Without the support and care from Erin, recovery would be impossible. She's been incredible – an absolute angel. I'll never be able to repay her for everything she's done for me and the way she dropped everything to take care of me. She's also the one who encouraged me to work out with Tony after I was frustrated with the prescribed, overly gentle physical therapy.
Wow. That was no small accident. It's pretty incredible that you've come this far so quickly. Do you think you'll ride again?
People ask me that all the time…YES! Of course! It's my passion, my outlet for stress, a mental release. There's no way I'm not going to ride again.
In fact, I was back on a bike within 3 months of my accident. I was feeling particularly motivated one day, so I set up my trainer outside. Of course, just as I was getting ready to hop on, it started raining. I was so disappointed. Then 5 minutes later the sun came out (I swear on that one spot like in a movie) and I seized the moment. It was just 15 minutes of a very easy ride, but it was the most amazing moment – emotional, but amazing.
I imagine it would be! Thank you so much for sharing your journey. How has ZUM impacted you since rejoining? What results have you achieved?
I've definitely been able to get strength back way faster than I would have with the prescribed physical therapy or on my own. Working with Tony has been a huge factor in my progress. His personalized, varied approach to our workouts keeps me motivated – it's certainly never monotonous! And then his sensitivity to where my body is on any given day combined with his ability to shift seamlessly between training and massage and just the fact that he clearly actually cares about me has been incredibly beneficial.
What do you like best about ZUM?
I think it has to be the community of like-minded people. From the training staff to the members, people at ZUM are all serious about health and fitness, but in a thoughtful, caring way. The community feel is fostered by comfort and care in every detail of your ZUM experience from the kindness at the front desk when you walk in, to the training staff and the other members, to the equipment, the décor, the showers, and the products in the locker room – it's all critical.
What would you say to someone who is new to ZUM or considering joining?
You won't regret it. It's worth every penny. You're joining an experience, not a gym. All the trainers and instructors are super talented, but it doesn't matter if you work out with a trainer, take classes, or work out on your own; or whether you want to have fun or knock out a serious workout – there's something for everyone. It's so many different things at once.
What's a fun fact about you we may not know?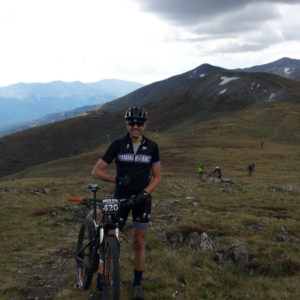 Every year I do a huge, momentous cycling event to keep me going. Last year it was the Breck Epic, in previous years I've done the Cyclocross Nationals and the Tour de Friendship in Thailand. This year I'll be riding for 9 days in the Giro d'Italia on my new custom bike – my gift to myself for coming back from the accident.
I'm also a food and coffee snob. I enjoy wine and bourbon. Of course, I love travel! I think it's important to approach life with a sense of adventure. So, when I travel, whether it be for work or pleasure, I always make the most of my time exploring off the beaten path. I try to cycle if I can too! I keep a bike in Hong Kong, so I can ride when I'm there. It's really cool to connect with the global cycling community.
What's your guilty pleasure?
Bourbon. My favorite is Noah's Mill. Also, stealing from Erin's store, Hammer & Awl in Madrona. She's always complaining about employee theft, and since I'm the only employee… ?
Do you have a favorite ZUM class?
Not really, since I'm not a big classes guy. But I'd say Tony's Weigh Crazy, because Erin loves it so much. She always goes, no matter what.
Is there anything else you'd like to share about your ZUM experience?
I think it's a testament to ZUM and its importance in my and Erin's life that when we decided to become small business owners and open Hammer & Awl, we had to make some changes here and there to make the business possible, cutting ZUM from our routine was never on the table. Nope. No way.