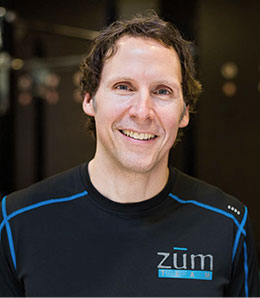 Joe DeShaw
ZŪM General Manager
B.A. Exercise Science, ACSM, CSCS
Joe has been with ZŪM since before it opened. He hired the first trainers, created ZŪM's onboarding system of trainer services, and has since facilitated weekly professional development meetings with the house training staff. He has owned and operated his personal training business since 1997. In 2014, he committed to learning about the business side of fitness with the intention of opening his own training studio. In 2016 he accepted the general manager position at ZŪM.
Joe has been committed to professional excellence throughout his personal training career. Before he started his training business, he spent three years working in physical therapy clinics where he learned how to tailor exercise programs to suit the specific needs of patients recovering from injuries. He has since continued to hone his skills by studying with prominent teachers of yoga, Tai Chi, Pilates, and Jiu-Jitsu.
He also undertook an individual study with Jeff Haller, one of the foremost Feldenkrais practitioners and trainers, and Peggy Protz, another local practitioner. This study further enabled him to guide clients into more refined and precise ways of moving and inspired innovation in his work. In addition, he worked extensively with Ken Lloyd Russell, a mentor who guided him through a rigorous examination of his life and taught him self awareness practices. The work with Ken helped Joe become more sensitive and responsive to his clients and more discerning with directing their exercise programs.
His commitment to excellence was demonstrated at Western Washington University, where he played offensive tackle for the football team, earning league honors for three seasons and conference honors for two. A natural leader, he was team co-captain for two seasons. He enjoys playing the drums and was in a local rock band for eight years. He also worked on developing his writing skills with correspondence courses through the University of Iowa, The New School in New York, and he attended classes at Hugo House in Seattle.
His professionalism and success received national recognition when Men's Journal Magazine named him as one of America's 100 best personal trainers.
Joe has loved ZŪM since its inception and he has strong bonds with many of the staff and members. He is grateful for having the opportunity to be the general manager and passionate about helping the ZŪM community succeed and thrive.
Want to work with one of our Personal Fitness Coaches?
ZUM provides focused, customized training in a supportive environment to get the most from your fitness goals.