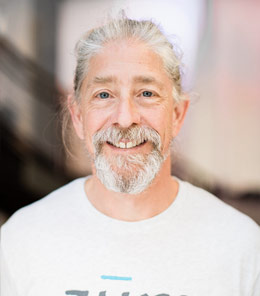 Kevin Lollis
Front Desk Team
Facilities Manager
Danzan Ryu Jujitsu Instructor, 3rd Dan
Women's Self Defense Instructor
Kevin was born in Portland, grew up in Seattle, lived in six states, and has always been a gym rat. His interest in sports began with Little League baseball as a kid, followed by football, basketball, baseball, tennis, water polo, and fencing. After hand-to-hand combat training in the U.S. Marine Corps, martial arts grabbed his attention; and he studied Kenpo and Taekwondo, finally settling on Hawaiian Jiu Jitsu. He also spent 33 years in broadcasting, doing every job in the industry: news reporter, anchor, and meteorologist!
Currently ranked as a third-degree black belt with two Jiu Jitsu organizations, he is slated to teach women's self-defense at ZUM with co-instructors from the Seattle Police Department, in addition to a Hawaiian Jiu Jitsu class. He plans to add to his resume in the fitness industry by continuing his education in nutritional chemistry and becoming a personal trainer.
Married to his high school sweetheart, he is the father of three grown sons.