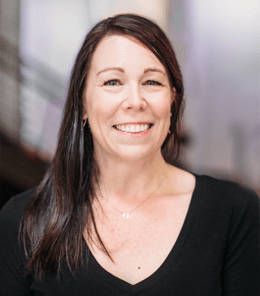 Laurie Junkins
NASM CPT
Women's Fitness Specialist (NASM)
Group Personal Training Specialist (NASM)
Certified Indoor Cycling Instructor (NCCPT)
Laurie grew up more of a book nerd than a gym rat, never participating in team sports until she became part of a regionally-dominant sailing team as a UW undergrad. It wasn't until 2008, though, that she truly understood the power of consistent workouts, when she impulsively signed up for a 6-week boot camp. By 2013, she realized that she was at her happiest when in the gym, and made the decision to switch careers from writer/editor to trainer/coach. It is now her mission to teach as many people as possible, especially women who have traditionally been discouraged from strength training, how fitness enhances and extends life at all ages and levels of conditioning. Because she loves a challenge, she shares that passion with her clients by motivating them to make, and then conquer, goals they never thought possible.
Laurie is a native Washingtonian and loves being outdoors, even in the rain. She is a long-distance runner, and is happiest when scuba diving in Puget Sound with her husband and kids. She holds an M.F.A. in poetry, is both a dog and a cat person, and spent three years of her pre-trainer life breeding alpacas on Orcas Island.
Want to work with one of our Personal Fitness Coaches?
ZUM provides focused, customized training in a supportive environment to get the most from your fitness goals.