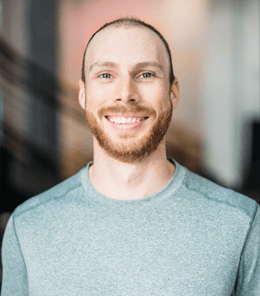 Rick Stockmann
Large Group Training Coordinator
ACSM – USA Track and Field Coach, Level 1
Rick is a Seattle native who grew up participating in many sports including competitive freestyle skiing, college football, track & field, and baseball. He attended Western Washington University, where he earned a B.A. in Political Science. He then attended law school at Willamette University, and afterwards spent some time practicing law and consulting. Along the way, Rick sustained a serious knee injury (torn ACL, partially-torn everything else), which left him assuming he was done with athletic endeavors. Luckily, he was able to seek treatment and recover, and he never looked back. Rick has returned to being an avid backcountry skier and participates in trail runs ranging from 5k to 100-miles in distance. He made the career change to training in order to prioritize helping others make positive changes in their lives, and to share the sense of gratitude he's gained through his experiences. His training approach is tailored to his clients' goals and lifestyles with an emphasis on sustainable results – they get the most out of every visit to the gym, consistently and without pain, and then take those gains outside the gym into the real world.
Rick is an ACSM Certified Personal Trainer and USATF L1 Coach.
Want to work with one of our Personal Fitness Coaches?
ZUM provides focused, customized training in a supportive environment to get the most from your fitness goals.