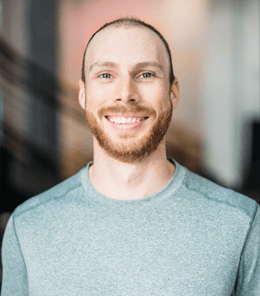 Rick Stockmann
Large Group Training Coordinator
ACSM – USA Track and Field Coach, Level 1
As a Seattle native, Rick grew up skiing and playing in the mountains. He briefly played football at Western Washington University, where he earned a B.A. in Political Science, eventually attending law school at Willamette University, after which he passed the bar, practiced law, and consulted. During law school, he sustained a serious knee injury (torn ACL, partially-torn everything else), which left him assuming he was done with athletic endeavors. Some years later, legislation passed that allowed him the opportunity to seek treatment and recover. He never looked back. Rick has returned to being an avid backcountry skier and has completed two 50-mile ultra-marathons over the last 2 summers. He is now making a life/career change to prioritize helping others make positive changes in their lives, to put some of his own interests at a higher priority, and to share the sense of gratitude he's gained through his experiences.
Rick is currently an ACSM Certified Personal Trainer and a USA Track and Field Coach, Level 1. He also has a black lab and plays guitar and bass.
Want to work with one of our Personal Fitness Coaches?
ZUM provides focused, customized training in a supportive environment to get the most from your fitness goals.