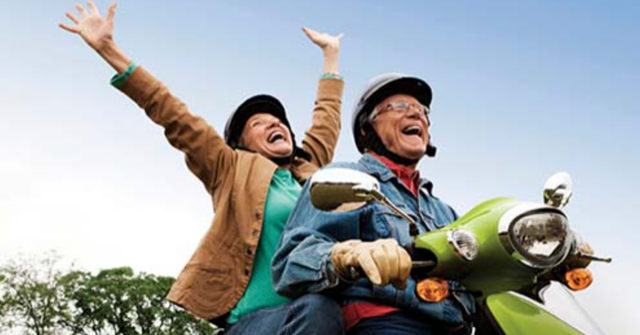 A few years ago I was walking through my old fitness club in Philadelphia, and saw a group of people in the classroom sitting on chairs and lifting 3 lb. weights. They looked relaxed, comfortable, and BORED. As the instructor, a good friend of mine and a killer fitness pro, led the group through seated bicep curls and tricep kickbacks she did her best to bring excitement and enthusiasm to the job at hand–to teach a widely available fitness class to senior citizens. After class, the instructor and I discussed the inherent assumption built into the class design– that older people are incapable or afraid of movement of any kind. Ever since then, I've been distracted by a voice in my head (the good kind) telling me to "Do something about this!" So I did.
Here at ZŪM we think differently about human performance at every age. Whether you are 25 or 85, movement is good, movement is energizing, and movement improves vitality. With this premise, we designed Spitfire!, a 12-week program to support active aging.
Each Spitfire! class has the same 7 sections every week:
Tune-in is the warm-up section of class. Participants move and interact with one another, easing them into the class and connecting them to their fellow participants.
I've Fallen and I CAN Get Up focuses on balance to prevent falls, fall recovery and crawling movements, and incorporates Vestibulo-Ocular reflex exercises to improve reaction time to visual stimuli in movement, like reading signs while walking down the street.
Float Like a Butterfly focuses on agility and lightness. Participants work on directional change and getting up onto and over things.
Sting Like a Bee incorporates mobility exercise and applying force to movement.
Look Kids, No Hands is focused on getting to a standing position from differing heights and in a variety of circumstances.
I've Got This brings pushing, pulling and carrying movements into the class. One of the pushing exercises for this class looks a lot like playing shuffleboard, but I digress.
Total Recall closes out every class with a game designed to maintain executive functioning. In Total Recall play, laughter and camaraderie are the measures for success.
Like all of ZŪM's training and coaching, Spitfire! allows for a wide variety of fitness capabilities. Having worked through the exercises and their modifications I am confident that every participant will excel at at least one thing and find one thing challenging, regardless of past experience or fitness level.
Of course I would be remiss not to point out that Spitfire! makes the perfect gift for those who already have everything. Classes meet twice a week at 9:30AM, when the parking rates are low and the gym is relatively quiet. Our inaugural 12-week program begins January 7th and costs $275 for all 24 classes. Membership is not required to participate.
We are really proud of the program we've designed and we are excited to share it with the ZŪM community. In fact, we can't wait until the first class to show you what we're doing. On December 17th we are previewing Spitfire! at 9:30AM. Join us to find out more about the program and maybe play some games. If you can't make it to the preview and are interested in learning more, I'd love to chat with you. Email me at liz@zumfitness.com, call me at 206.443.3933, or just catch me at the club.