The vibe at ZUM is friendly and welcoming. It is truly a community where I feel supported to meet my fitness goals. The personal training philosophy is to help you move better in whatever your life activities may be. I enjoy hiking and skiing, so my trainer designs great workouts to get me mountain ready! I'm stronger and faster thanks to ZUM!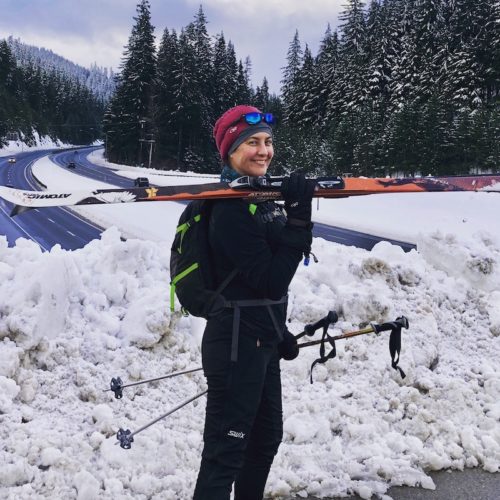 Becky and I met for the first time about a year ago to discuss her interest in training. She is the Managing Director for ACT Theater here in Seattle (go see Romeo and Juliet this spring!), and as such, has a very busy schedule. However, she explained how important it was to her to start moving more regularly. It didn't take much time for us to get on the same page once we realized we have many outdoor activities/interests in common, and Becky dove right in. I've been increasingly impressed with her commitment and drive to put her health and well-being first, especially with such a demanding career.
Becky has really been hitting her stride this winter, so I felt the time was right to reflect on her successes, and I reached out to her about participating in our Succeeding and Thriving blog series. Becky was already familiar with this blog and it didn't take much convincing. When I sent the set of questions to her for review prior to meeting up, I was surprised to get a response in less than 24hrs. What I read humbled me as her trainer, and I now just want to get out of the way and let Becky take if from here.
Why did you seek out personal training at ZŪM? What was your original goal?
I had been a member of ZŪM for over a year and could count on one hand the number of times I worked out at the gym. I wasn't making time for myself to exercise. I'd let my work schedule take over my life and I wasn't taking care of myself in the way I had before taking on a leadership role at work. I realized that I needed someone to help hold me accountable for prioritizing fitness in my routine.
My goal was to just start exercising. I needed motivation. Honestly, I was feeling very down about my body and I needed help to get back on track. I had attended a ZŪM U workshop and realized that my mental and emotional well-being were tied into my need to be physically fit as well.
What have you learned since you started training?
I have learned that exercise is connected to everything. From how I move in my day-today life, to how stress impacts my energy and focus. And that there are many ways to incorporate activity and movement into my lifestyle routine.
I know how to use weights, which can be intimidating if you don't know where to begin.
I've also learned how to incorporate what I learn in training sessions to things I can do at home and also in my favorite outdoor activities to continue to make progress. Rick has designed our workouts around my love of cross-country skiing and it has improved my level of fitness in the snow, which has been a huge bonus. I feel more powerful and strong.
What changes have you seen in your physical self or how you feel or look or both since you've started training?
One of the greatest tips Rick gave me is that if I'm tracking weight loss, the chart will look like the stock market with ups and downs over time – it is not a straight line. He also encouraged me not to try to lose weight too fast or get discouraged by the scale.
In the past year I've lost 15 pounds and I like how I look in my clothes and how I feel in my body. My arms, back, legs, and core have more tone and definition. Those push ups, assisted pull-ups, and overall strength training have made a difference!
I'm more confident, my energy has increased, and I have shed the self-hate that comes with feeling bad about yourself. For that I am grateful.
What are your 3 favorite things about training?
It is so much fun to work out with Rick. I truly look forward to our hour each week. He has a sense of humor, plays great music, and I greatly appreciate that he has taken an interest in my theatre life and understands the pressures of what it means to run a non-profit. I feel like he truly listens and lets me be my full self.
I love that I can just trust the process, do what he tells me to do, and not have to make any decisions. Being the head of an organization, it is so nice to have someone tell you what to do and you don't have to think about it – just focus on the movement and clear your head of everything else.
I'm overcoming fear, gaining confidence, and building skills. I can feel it when I'm hiking or skiing and can recognize the impact of conditioning on the slack line, kinesis machine, or leaping jumps. It is fun to take what I learn and put it into practice.
What is your biggest struggle in terms of fitness and training and how do you overcome it?
I've struggled with body image my whole life. It's something I share with many family members as well. In my 20s and 30s I embraced the outdoors and exercise and it changed my life. The past three years I lost that discipline and let work stress consume me. Being in my 40s now, it is harder to keep it all together with a busy schedule, but I know now that I need the support and motivation of a trainer to stay on track. If I show up tired, stressed, or distracted, Rick can tell and he adjusts our workout to get the best outcome for that day. I always feel better afterwards. Now if I could just get over my fear of jumping up on boxes…
In what ways do you supplement your personal training sessions in order to get closer to your goals?
I play outside! Hiking and cross-country skiing are a passion. I've recently started skate skiing in addition to classic style which is challenging me in new ways. I also started riding my bike more last summer and I'm eager to get back to it this summer. Fresh air, nature, and movement are critical to my well-being. I also bought an old-school NordicTrack and kettlebell so that I can work out at home if I can't get out to play.
What would you say to a member who is on the fence about training?
Just set up a consultation and make the investment. It tried to hide how truly down I was about myself in our first meeting. I wasn't sure if I could pull myself out of the funk, but I knew I had to try because I was tired of not liking myself everyday and that kind of self doubt will permeate everything in your life. I'm so glad I did it. Once we started it just felt great to be moving again. Rick is a great match for me, but I can say that everyone at ZŪM is friendly and helpful. It feels good to be part of the community.
How do you keep moving forward toward your goal when life happens? (i.e., vacations, holidays, etc…)
I'm grateful we can always adjust our workouts to another day if I need to reschedule. Most of my travel includes vacations with outdoor activities as a destination or a NYC work trip where it is easy to put in 10,000 steps per day. I haven't given up wine, so gal-pal getaways usually result in needling to work off some of that when I get home.
What do you attribute to your success?
The workouts are fun, challenging, and energizing. If I was being forced to do workouts that I dreaded or if my trainer was phoning it in, I can't imagine I could stay motivated. Because it is fun and the workout is designed to support my goals outside of the gym, I look forward to it and I show up and do the work. I know my husband and colleagues can see the difference in my day-to-day self as well. We're better all around when we feel good.